Gutter service,
They did a great job explaining hangers, pitch, etc.. I also like the fact that you guys just don't clean the gutters, but you also reinforce & repair. Over all an outstanding experience! Highly recommend Professional Gutter & Drain.
-Vidmar
As a full service gutter company we do gutter cleaning and repair as well. This type of service is completed during a service call out to your home. As part of a gutter service call, we will clean debris from your gutters and give your entire gutter / downspout system a "tune-up". This means we will spend up to two man hours cleaning, tightening loose fasteners, adding fasteners, re-pitching gutter, refastening downspouts, re-sealing corners, and making other adjustments on an as needed basis. If two man hours is not enough time to complete gutter cleaning and repair on your entire home than additional time will be charged per man hour.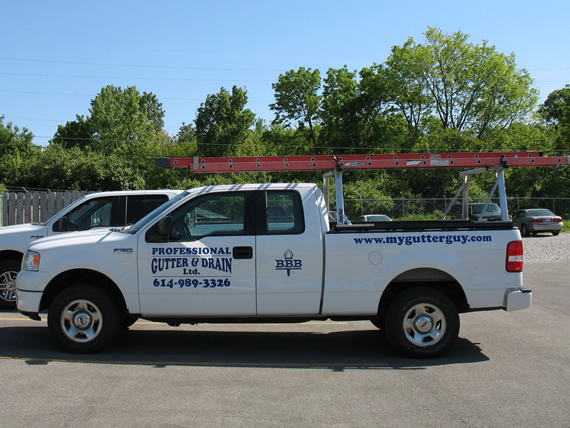 There are several different profiles and sizes of 1/2 round gutter. They are commonly made of galvanized steel, copper, or reverse bead seamless aluminum. The most common profile of 1/2 round gutter is a single bead across the front of the gutter and a double bead version with a bead in the front and back of the gutter is available.
There are many different hangers and bracket systems available to hang and support 1/2 round gutter. Typical sizes range from 5″ gutter with fluted or smooth round downspouts to 8″ with 5″ round downspouts. Due to the profile of the gutter and it's limited capacity we recommend no smaller than 6″ be installed in the central Ohio – Columbus Ohio area. When installing copper or galvanized 1/2 round gutter we solder the seams and joints to provide decades of leak free service.