Gutter Guard
Very personal and friendly, I am also impressed with the fact that this a local and independent company.
D. Broehm
We have repeat customers that clean their gutters sometime twice a year. When we tell them about our gutter guard they often wonder if that will be good for their home. We offer free estimates to come out and measure your home and give your home pricing options. Installing gutter guards is highly recommended do the the mere fact that it will save you time, money, and also leave you with less worry about your gutters over flowing. It is important to remember the function of your gutters and why they are there in the first place. If your gutters are not functioning properly do to being filled with debris, it can ultimately result in much more extensive work to be done to your home. W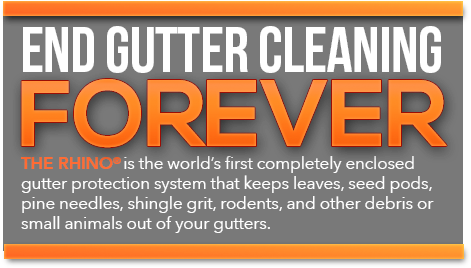 RHINO Gutter Guard® is a combination of strong aluminum and surgical-grade stainless steel micro-mesh that ensures only one thing gets into your gutters…water. This is the best gutter guards product in U.S. market.
Every inch of the gutter system and roof has its own set of issues. We've carefully studied each of those issues and realized that a properly designed gutter protection system was needed.
We at The Gutter Guard Store chose RHINO Gutter Guard® – a carefully crafted and patented micro-mesh
gutter guards made of strong aluminum and surgical-grade stainless steel mesh that handles an amazing amount of water while keeping even small debris like pine needles out of your gutters.
Confident in our beginnings, we continued to research more ways to provide complete protection for your home.
When gutters become overwhelmed in certain areas with heavy volumes of water, they 'overshoot' which defeats the whole purpose of having gutters in the first place. Our patented line of RHINO Miters complete THE RHINO® system by addressing such trouble spots as inside roof valleys, bay windows, and heavy water streams created by upper stories or underneath dormers.
Many homeowners report various animals making their way up the downspout and nesting in their gutters or burrowing into their attics. With RHINO Downspout Caps, this problem is solved. Made of corrosion resistant surgical grade stainless steel, these discreet mesh caps create a barrier that animals cannot pass through.
Once our complete gutter guard system is installed, we wanted to make sure debris, pests, or small animals could not enter your gutters through openings at the end points. To cap off these openings and ensure gutters are completely sealed, we created our specially designedRHINO End Caps to enclose the whole system.
BUILT TO STAND UP TO OUR PROMISE.
Many companies claim their product will end gutter cleaning forever. However, after those products are installed, they fail due to poor material quality, bad design, or the inability to stand up to Mother Nature. We can confidently stand behind The Rhino system because it utilizes the finest materials and enforce strict quality control measures.
Our 20-year warranty guarantees that RHINO Gutter Guard® will stand the test of time with harsh outdoor elements and continue to stand up to its reputation as one of the most trusted gutter protection systems on the market.
THE RHINO® is only sold and installed by Authorized Dealers who are:
Factory trained and certified
Licensed and insured
"A" rated with the Better Business Bureau
Committed to 100% customer satisfaction
We pride ourselves on the ability to deliver a unique, professional experience to every homeowner, from the initial sales presentation in your home all the way through the installation and warranty process.
We're so passionate about this that we encourage you to contact us directly if you are unhappy with your RHINO experience.
AFFORDABLE AND SMART.